Ok, I give up! Finally! Although, it's really not something I do well… giving up. But after nearly eight hours of searching, I fear I may have no choice.
Three or four days ago, I was reading a brilliant albeit very short post from one of the very many blogs that I follow and the blogger who shall at the moment be unnamed, mentioned that she (I'm pretty sure it was a she) was inspired by yet another blogger (whose blog I had planned to visit) to participate in a 90-Day Creativity Challenge.
I thought, heck yeah, I want in on that! But, I was feeling so good about getting caught up on my feeds from wordpress, or google reader, any one of my five email inboxes (I know, I know…) or maybe it was on my smart phone??? Very long story, short… I forgot to get back to post and now I can't find the dang thing to save my proverbial life.
So here it is. I have never done anything like this on the internet before, but since I can't join the other blogger's challenge, I am starting my own 90-Day Creativity Challenge!!! … Actually, I'm kind of a commitment phobe, so I think it's best to start with a 30-Day Challenge instead (sorry to be such a wuss).
I have no idea of what the rules should be, in fact, I'm not even sure if these will be 30 consecutive days or kinda cumulative in nature, ending, say, sometime in the future? In full diva fashion, I intend make up the rules up as they present themselves and I invite your input and hope that you will join me in this haphazard challenge.
I may not have rules, but I always, I mean always, have ideas (they just may not be good ones…wink wink—fall off chair).
Here are 3 places that I (and perhaps, you, should you accept) intend to start in my 90…er… 30-Day Creativity Challenge: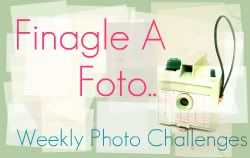 1.) Finagle a Foto Interactive Photo Challenge. A winner is chosen each week by the contest hosts at ArtsyGirl Connection, Foreign Domestic and Happy Jax. Each week has a different theme and the current challenge for Week #8 is "Reflection".
Although, it's not clearly stated, I believe this contest will be ending one week from today. I found out about it from recent winner Girl Meets Bulgaria and she posted that she won this contest two weeks ago, so she is the mind behind this weeks theme.
2) Goodwill's Be Green, Be Creative Upcycling Contest. The objective is to purchase an item from Goodwill Industries of southeastern Wisconsin and metropolitan Chicago, and use it to create a different item with a different purpose and submit a photo (no videos) to amazinggoodwill.com by April 16, 2012.
3) Submit a picture and creative description of your most incredible travel moments into Conde Nast Traveler's Dream Trip Contest for a chance to win a dream vacation worth up to $25,000 through April 20th, 2012. You can submit up to 10 entries of up to 10 photos at a time and you can add to your gallery whenever you'd like. The more you enter the more chances you have to win! Even if you don't enter you should check these photos out for some AMAZING inspiration.
Hope that gets us inspired and off to good start.
I will post more creative ideas as they come to me. I will also, keep you posted on my progress and projects as I complete them and I hope you will keep me up-to-date via a comment or a linkback on your progress, too.
Oh! And if you happened to have read the post that I was referring to earlier and remember the name of the blog, please, please let me know.
Happy Creating!